TAKE YOUR MEETING TO THE NEXT LEVEL!
Hollis Conway's programs will help your group
achieve the results they desire!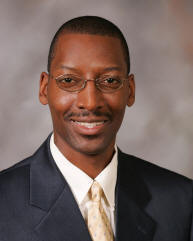 Inspirational, Motivational, and Life Changing!
You'll learn many of the same principles that
allowed Hollis to become one of the world's most
dominating high jumpers.
Check these out:
How to develop the vision of a champion…

How to develop good decision-making skills…

How to develop the courage to succeed…

How to make effective plans…

How to discover your inner potential…
and many more…
---
 AWESOME RECOMMENDATIONS
---
Dear Hollis,
It was a pleasure meeting you! On behalf of the Association of Government Accountants (AGA), we thank you for speaking at our conference.
The evaluations were very complimentary about the entire program. Here are some specific comments about your session:
"Hollis Conway was a great way to begin the Conference"
"I truly enjoyed Mr. Conway's motivational session"
"Mr. Conway was very informative and motivational"
"Hollis Conway was great"
Your session was listed most often as the one they enjoyed most (27 times). Again, we appreciate your role in making the conference a success. I look forward to working with you as I plan conferences for my other government associations.
     Billie C. Tripp – AGA Program Coordinator
---
It was really great to see you again! Thank you so much for speaking to our LIAA group. A total of 108 participants representing local and state government agencies attended the program. The evaluations were wonderful – 85% gave you "excellent" ratings and 15% gave you "good" ratings. Many said this was the best conference yet – entertaining, informative, awesome, and inspirational, were just a few of the comments.
You were perfect for our opening session. Your humble attitude and sincere heart to help others achieve their vision is very uplifting. Again, Hollis, it was a pleasure working with you, and I will be in touch to check your availability for future programs as I meet with my various associations.

     Billie C. Tripp – Program Coordinator
---
"it's not just a 'feel good' message, it's a message of
action and direction.  The more people that hear
Hollis, the better they and their organization will be
for it."
Steve – Composite Accoustics